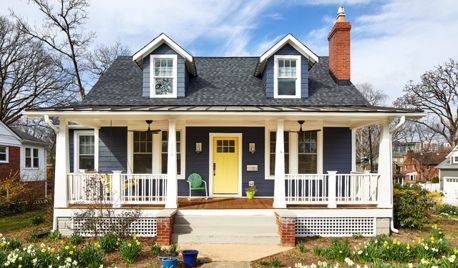 We have all heard that "curb appeal" is one of the most important places to start when listing your home. First impressions can make or break a deal. You want there to be an emotional aspect in that first moment they see your home.
There are several ways you can improve the look of your home while not blowing the budget. Simple things like trimming the bushes, keeping the grass mowed and edges trimmed, pressure washing, and adding a few colorful flowers can make a world of difference.
Paint is ALWAYS your friend, inside and outside of your home! A pop of color on your front door is a fun way to add a touch of color to your home. If you have any unsightly power boxes or pipes, paint them the same color as your siding. Light fixtures, lamp posts around the outside of your house can be painted with some exterior paint to freshen them up and look like you just replaced them, and make sure all of your light bulbs work!
An inviting front porch and/or a relaxing deck or patio will make your house desirable to buyers. They will find excitement in the beauty and look forward to coming inside! You can accomplish this by adding a bench or chairs with pillows. Adding a table with a small plant or decoration makes the space feel like another room in the house.
All of these ideas I have shared with you will make your home feel welcoming to buyers. They will give your home a well maintained look and show your pride in home ownership, which is a plus in buyer's eyes, and make agents excited to show your home!
– Lindsay